Summary
Janet Yellen's new, dovish inclination is best explained by credit spreads.
Expect new rounds of monetary accommodation whenever credit spreads test their post-crash extremes.
Credit rebounds from deeply oversold territory are historically constructive for common stocks.
On March 29th, Janet Yellen outlined three factors warranting a new, dovish bias: energy prices, currency dislocations, and global equity turmoil. While all of this makes sense, we think the real driver of FOMC policy is corporate credit.
In January 2016, credit spreads, measured by the price ratio of Baa-to-Aaa bonds, had deteriorated to a post-crash extreme. See chart below.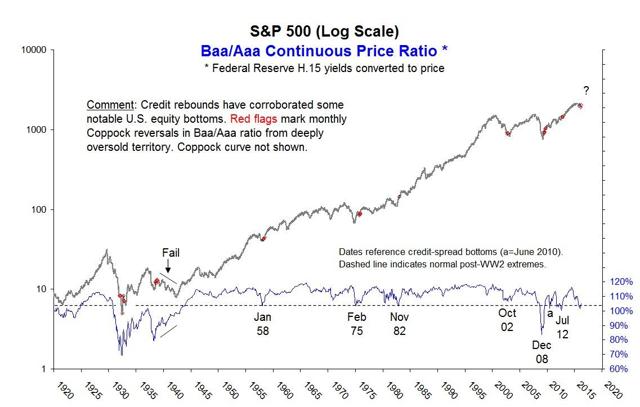 The last two cases, in June 2010 and July 2012, were followed by QE2 and QE3, announced in November 2010 and September 2012, respectively.
The current case does not necessarily imply further quantitative easing, but it does derail the "normalization" thesis. The Fed would obviously like to avoid a relapse into 1930s-syle credit-market conditions. So there's nothing shocking about Yellen's change-of-course. But what are the consequences?
First, the Fed is not likely to adopt a hawkish posture anytime soon. Second, we should expect new rounds of monetary accommodation whenever credit spreads test their post-crash extremes. Finally, and most importantly, we should acknowledge that the Fed's new tilt provides a fresh tailwind to U.S. equities.
(Yes, valuations are rich. Expect a tailwind, not a gale force.)
The chart above flags cases in which the Baa/Aaa price ratio has reversed from deeply oversold territory, defined by monthly momentum less than negative 10%. While there are only a handful of examples, we note that credit reversals of this nature have typically confirmed important equity bottoms.
One of these days, the Fed's magic wand will cease to work in the familiar way. In the current case, however, continuation is probably the better bet.
 Disclosure: I am/we are long SPY.  I wrote this article myself, and it expresses my own opinions. I am not receiving compensation for it. I have no business relationship with any company whose stock is mentioned in this article.