Summary
Market breadth provides a measure of internal health that can help identify primary trend.
In my year-end outlook, I presented a breadth-recovery model likely to signal the next durable rally in U.S. equities.
This report updates my year-end work and introduces a new indicator with a respectable track record all the way back to 1926.
Breadth recoveries following breadth "wipeouts" have signaled most major bull markets of the past nine decades.
Background
Market breadth measures the degree of participation in a stock-market rally or correction. There are many measures of breadth, including advance/decline ratios, 52-week highs and lows, and percentage of stocks above a moving average. A detailed guide to various breadth indicators is provided by Greg Morris in his wonderful blog series: Dancing with the Trend.
The essential thing to know about breadth is that a broad rally is much healthier than a narrow one.
Another key concept is "breadth thrust," a burst of unusually-broad participation which normally occurs near the beginning of major bull markets.
The thrust principle is illustrated in the chart below, which tracks "breakaway momentum," an indicator described by Walter Deemer of DTR, Inc. in his invaluable book: Deemer on Technical Analysis. Thrust of this nature has almost always occurred near the beginning of sustainable rallies… a point worth repeating.
Chart 1. Dow Jones Industrial Average Vs. Breakaway Momentum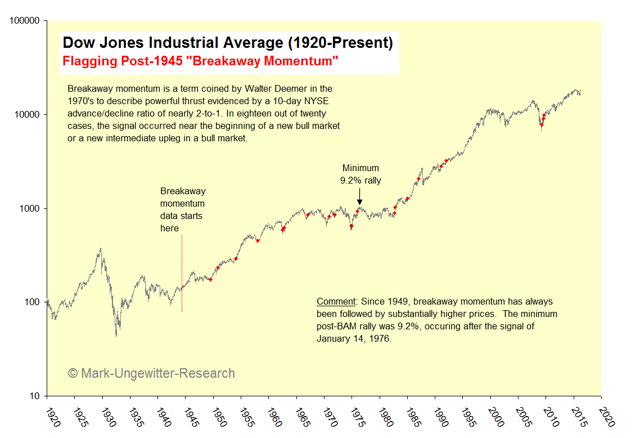 Breadth-recovery model
The rally since February 2016 has not generated classic breakaway momentum. It has, however, produced some impressive breadth statistics including: 1) new record highs in the cumulative NYSE advance-decline line; and 2) a 20-day advance/decline ratio of nearly 180%, which has never occurred in the absence of breakaway momentum.
In my year-end outlook, I presented an alternative thrust indicator: a breadth-recovery model based on the percentage of NYSE stocks trading above their 200-day trends. This model recently turned positive as shown below.
Chart 2. S&P 500 Vs. % of NYSE stocks >200-day average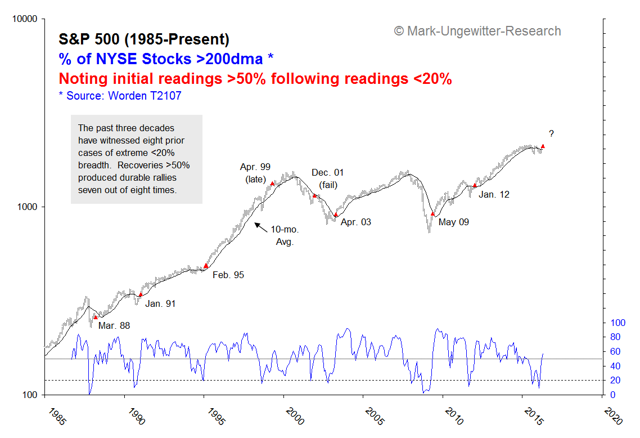 The concept is simple. Breadth recoveries following breadth "wipeouts" suggest that market conditions have regained a healthy state. The indicator is not useful in every market environment; only after a breadth wipeout has occurred. The model has a respectable track record back to 1986, with only one failed signal out of eight prior cases.
Short-term investors might object to the lagged nature of this indicator. But the technique is a trend-following device, not a bottom-picking method. In proper context, it is useful to investors and traders alike. "Buy-the-dip" strategies, for example, are more likely to succeed in a confirmed bull market.
Sector-thrust model
Three decades is a reasonable test period. But how did the method work prior to 1986? A technique I call "sector thrust" enables us to look back further in time, all the way to 1926.
The model in Chart 3 uses nine S&P 500 sector funds for recent observations (XLE, XLK, XLY, etc.), and ten industry portfolios created by Eugene Fama and Kenneth French for older readings. A breadth wipeout is defined as a period in which all sectors trade below their 40-week averages. A recovery occurs when nearly all sectors trade above their 40-week trends.
Chart 3. S&P 500 Vs. % of sectors > 40-week average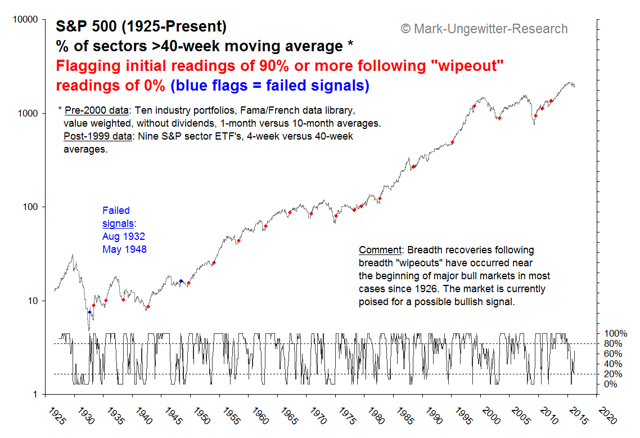 There are questions about the quality and comparability of the Fama/French data. The thrust principle, however, seems to hold up over time. Breadth recoveries following breadth wipeouts have occurred near the beginning of major bull markets in most cases since 1926. Powerful bull markets seem to require full sector participation. Unhealthy sectors – such as technology in 2000-2002, finance in 2007-2009 and energy since 2015 – can drag the entire market down… probably due to our interconnected economy and credit system.
Sector thrust will soon issue a bullish signal, if XLE and XLV continue to trade above their 40-week trends. This does not guarantee a major bull market, but does improve the odds. The burden of proof, in other words, has shifted to the bears.
Conclusions
Market observers have an old saying: "If you can tell me whether we're in a bull or bear market, I'll tell you how to make money." This circular statement is rather amusing, but its message is no joke. Investing in the direction of the primary trend is a sensible way to build wealth while sleeping well at night.
The rally since February 2016 is exhibiting healthy signs, worthy of our attention. My breadth-recovery model (based on NYSE stocks) recently turned positive. My sector-thrust model (based on S&P sectors and Fama/French portfolios) will soon follow suit, assuming continued strength in energy and healthcare.
These models aren't perfect, but do make sense. Market breadth is a good indication of market health. An awareness of breadth, in its various forms, can help investors identify the primary trend. Breadth recoveries following breadth wipeouts have signaled most major bull markets since 1926.
Disclosure: I am/we are long SPY.  I wrote this article myself, and it expresses my own opinions. I am not receiving compensation for it. I have no business relationship with any company whose stock is mentioned in this article.